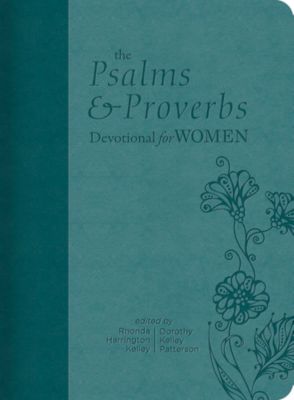 Title: The Psalm And Proverbs Devotional For Women
Author: Dorothy Kelley Patterson, Rhonda Harrington Kelley
Publisher: B&H
Publish Date: October 1,2017
ISBN: 978-1462751204
Source: B&H Bloggers
Pages: 768
Rating: 4 Stars
Purchase: Amazon~BN

About The Book

Women are searching for wisdom beyond themselves, for discernment that makes God's will and way clear for daily living. No books in Scripture hold more instruction for how to live according to divine wisdom than do Psalms and Proverbs, and these daily devotions mine their riches with choice, seasoned counsel. Blessed will be the woman who pursues this path to wisdom with passion and commitment.
My Thoughts
I haven't read a devotional in a long time, and when I sat down and opened the pages of this book, I was quite taken with it. It's a wonderful little devotional, perfect for the women in your life. The sad part of this is, it's a devotional my mother would have loved, but sadly, she passed away in 2014, so I am enjoying this for her.
The coloring is more teal than green and very eye catching. The cover of this devotional is leatheresque and very nice to the touch, making this a wonderful little gift book. The content within the pages is awesome as well. The devotions are number for the day of the year rather than the month and day, making this very easy if you forget a day or two along the way. The devotions are contributed by many different women. I have slacked off from time to time with my daily walk, but focusing on the book of Psalms and Proverbs, two of my mom's favorite books, each devotion is perfectly created and makes for a wonderful alone time with God.
This little book would make a wonderful Christmas present for the special woman, or women, in your life. It's beautifully created and art

i

culately bound in a pleasant, eye pleasing way. Definitely worth 4 stars and recommendation from this blogger and reader!
*I received a complimentary copy of this book from B&H Bloggers and was under no obligation to post a review, positive or negative.*