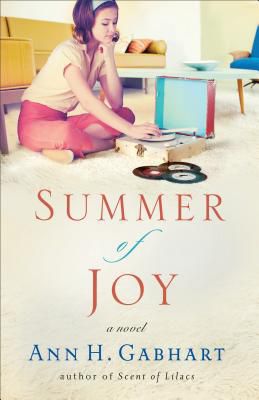 Title:
Summer of Joy
Author:
Ann H. Gabhart
Published by
Baker Publishing Group
Date Published:
2008-02-15
Pages:
347
Genres:
Christian Fiction
,
Romance
Format:
Paperback
Source:
Revell Reads
Purchase:
Amazon
~
B&N
Add To
Goodreads
Rating:
The summer of 1964 certainly was eventful, but it's nothing compared to what's coming to the Brooke family and to Hollyhill, Kentucky. David finally gets up the nerve to pop the question to Leigh and wedding plans are in the making. But the past is coming to call on many in Hollyhill, threatening to destroy the relationships that everyone thought were so strong. Two people--one David thought was gone for good and the other no one's ever heard of--are making their way to the small town and promise trouble. This complex and well-written story is the perfect conclusion to the Hollyhill story. With true-to-life family drama, refreshing humor, and lovable characters, Summer of Joy will delight readers.
I received a complimentary copy of this book from the Author/Revell Reads and was under no obligation to post a review, positive or negative.
My Thoughts:
When I think of reading an Ann Gabhart novel, I  think Shakers. The first novel I read by Ms. Gabhart was one of her Shaker novels, called The Seeker. I loved it. Her writing style is different, yet refreshing and really captivates me with each book that I read. Summer Of Joy was no different, and I thoroughly enjoyed reading. However, sadly, I didn't read both the first books in this series, so I want to go back and read them. 
In this novel, Ms. Gabhart captures everything from romance, to secrets and letting go of the past. She fills the book with tenderness and love, but also with anger and hatred. It makes for a wonderful combination as you turn the pages. Jocie's character really brought out my mama side! I wanted to wrap her up and hold her all day long and tell her everything would be okay! 
Of course, Ms. Gabhart adds characters that made me quite mad, too! For instance, Jocie's mother. Let's just say, I wanted to through the book across the room and throttle her! But, Ms. Gabhart over came that with adding humor to the story to keep me smiling through out the book, as well. 
If you are looking for a novel that is both dramatic and refreshing, then Ms. Gabhart's Summer Of Joy is for you. She will pull you into her 4 star books and keep you hooked from start to finish. Another fabulous job, Ms. Gabhart! Thank you!