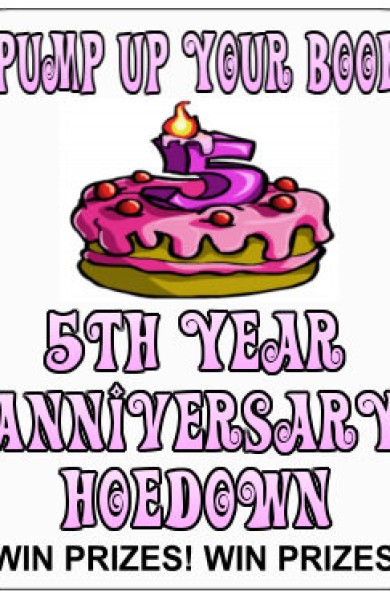 YAY! Let's welcome one of my favorite people to my blog today…..Dorothy Thompson, found of Pump Up Your Books!, a virtual tour book site offering great things for authors of all genres! Welcome, Dorothy! Take it away……
I want to thank Molly so much for hosting Pump Up Your Book today on its 5th anniversary! Our little mini tour is just about over but it's been fun being on the other side of the fence. Talk about learning how to multitask times ten! But it's been fun.
First I'd like to talk a little about Molly if I may (Molly, close your eyes). Molly has been a friend since way back when. When she first approached me about starting her own virtual book tour company, I told her to go for it. I also told her there were plenty of authors to go around and that if that's what she felt like doing, go forward and don't look back. Today, Molly is thriving and it really warms my heart to know someone else found her dream job. Putting together virtual book tours for authors is not easy. We're forever learning ourselves. We don't want authors to walk away and say "Well that was a waste of good money." After all, money does not grow on trees. So unless we are out there researching ways to improve our tours, we are wasting our time and the author's time and money. We understand it and Molly understands it. We get it.
Now, back to my guest post for today. It's a rant. And boy I do love rants. But this is a good rant because I think it's going to open up a lot of people's eyes on just what is going on behind the scenes in the world of virtual book tours.
A Little Ranty Blog Post About Supply and Demand in the World of Virtual Book Tours and Setting the Record Straight
By Dorothy Thompson, CEO/Founder Pump Up Your Book
I know what you're thinking. What in the heck does supply and demand have to do with virtual book tours?
Well I'll tell you. I'm talking about how tour coordinating has changed over the years. When Pump Up Your Book first opened its doors back in 2007, book bloggers were ready, willing and able to host authors on tours. Most didn't even know this even existed and were jumping on board to see what it was all about.
Fast forward five years and when everyone in publicity knows about virtual book tours and are implementing them into their new book campaigns for their own clients, the stakes have gotten rather high. No more do they have to beg for your authors' books. The tables have turned. Now you have to beg them.
Don't get me wrong. My trusty email list with loyal blog tour partners have been a life saver, but think about it. There are too many books and not enough book blogs (of high standard) to go around.
These book bloggers are being bombarded with book review requests for blog tours. Not only are authors emailing them, but book publishers and book publicists are as well. What used to be a safe and happy plateau of bloggers wanting to fill their shelves with good books has become a wasteland of too many books and not enough time to read them all. Tours get thrown off when the book blogger becomes overcome with impending book reviews.
Authors want to know why they aren't receiving as many reviews as they thought they would. Our staff works nonstop around the clock to find reviewers for our clients and it dawned on us what is going on. Either the book blogger is taking on too many books and can't possibly read them all or the book blogger has family commitments, stuff that happens and all that and whammo bammo, they are emailing me that they can't review a book for the author's stop the next day.
Let's shoot over to the author's side for a moment and I'll get back to the subject at hand. The author has paid for a service. The author is excited. The author perhaps lists all these tour stops on their own blog and tells their entire fan base about their potential tour stops coming up. The get up in the morning and can't wait to see their appearance on your blog. They are like giddy little children on Christmas Day. I know, I receive emails from them saying this. And then…it's 10 a.m., 12 noon, 3 in the afternoon and there's nothing. By then the tour coordinator is scrambling, trying to figure out why the blog post did not go up. She emails the blogger and most times it's a simple thing like it was left in draft. This can happen and has happened. Not only did the author feel that the money they invested was wasted, it makes them angry and they take it out on their tour coordinator. What the author doesn't realize is that the tour coordinator does not have control over the blog post going up. They set it up, keep tabs on it, promote it but once it leaves the tour coordinator's hands and enters into the blog host's hands, it's a bunch of praying to Almighty God after that.
Now let's shoot over to the blog host's perspective. One, they are not paid to review or host at all your authors for that matter. Two, they expect (and rightly so) the books to arrive yesterday. Three, they have kindly offered you a book review despite the fact they have a stack a mile high already. They would appreciate it if the book arrives in time for them to read it and write their review before their scheduled date. The blog host does have a life and s/he has feelings. She does not want to be yelled at by an irate author because they gave the book a somewhat negative review. She deserves respect in regards to having their material for their scheduled post arriving not the day before the stop is supposed to go live.
So what do you do?
I have come up with some pointers for both sides of the fence and I'd like to start with the tour coordinator first:
• Make sure you get these books to the blog hosts immediately. Make that top priority. When a review request comes in, stop in the middle of what you are doing no matter what it is and email the author with the blog title, link of blog and reviewer's address.
• Being as a tour does not have to be made up entirely of reviews, be innovative and find blog hosts who are willing to interview your author or have them write a guest post.
• Give the blog host an opportunity to post a book spotlight (easy peasy but be sure to send them what they need so they don't have to go looking for it).
• Offer giveaways. A book spotlight and a giveaway is fun for the blog host. It gives them the chance to get more followers to their blog, Twitter and Facebook accounts.
• Offer them money. Okay, yeah, it's bribery, but hey it works. I'm not talking about paying for the author to be on their blog. I'm talking about coming up with some type of contest where the blog host feels they are getting a chance to get something out of hosting your author for you.
• Offer the blog host a copy of the author's book no matter if it's a review or not. I know, I know, authors are going to balk at this but it's good relations all the way around. A lot of these bloggers will take e-book copies in return and I would think not having to pay postage will make the authors happy and the bloggers feel as if they are getting something out of hosting your author.
• Encourage your author to contact you instead of the blog host. I had a blog host get very irritated and emailed me about it. Make sure your author knows that all correspondences are between you and her and that under no circumstances should the author email the blog host unless the tour coordinator emails the blog host to make sure it's okay. Most blog hosts don't mind, but just play it on the safe side.
• On that note, make sure your author knows that all interviews and guest posts must be back to you before the tour starts to give the blog host time to queue it into their blog. A lot of them schedule these posts to go up on a certain day and that frees them from having to be there at the time in case they have a job other than blogging.
• Have respect for the blog host and make sure you let them know if a book is arriving late, etc. That gives the blog host the opportunity to fit in another book before yours to speed things up on her end.
Okay, now pointers for the blog hosts:
• No matter if the book looks enticing and something you'd die to read, if you have a stack a mile high, show some restraint and only request one or two more books a month instead of 10 to 20 or however many you are overextending yourself. I would rather you turn me down than schedule you which according to the author is a date set in stone.
• If your book doesn't come to you in a reasonable amount of time, email the tour coordinator so both of you aren't in for a surprise later. Sometimes the author puts off sending books; sometimes it slips his or her mind. This is where the tour coordinator needs to be in contact with the blog host several times throughout the tour. What I do is once the blog host requests a book and I tell the author to send it, I follow up with the blog host before the tour date and the night before. This might be irritating to them but it's better to be prepared in the long run.
• Don't request a book and not post a review. Email the tour coordinator (believe me she has had practice with this sort of thing and can work around it by rescheduling it or whatever) and tell them when something is wrong. It's not the end of the world. We can work around it. I had a blog host tell me her house burned down. I had a blog host get bit by a spider and made her deathly ill. I had a blog host who said she just got a new puppy and she didn't realize how much time was involved. Believe me, I have heard it all as I'm sure the blog host has heard it all from our side of the fence. The bottom line is that's life and not all of life revolves around the computer. With that said, it's also about commitment and integrity. Being upfront no matter what it is is really better than not saying anything. It is the tour coordinator's responsibility to make things right and she has been trained to do so. What the blog host doesn't realize is that the author can get mighty angry and takes it out on the tour coordinator so the tour coordinator has to be quite innovative herself and will find a way to make things right.
• Don't try to reword someone else's review for the same book because you don't have time to read it. Believe me, these authors know when a book hasn't been read and they can tell when it's a ripoff of someone else's review. These authors know their reviews and they can tell believe me.
• Don't write your review in one or two sentences. It shows us you really aren't in it to get the full benefits of the book or you're in too much of a time restraint and that's all you can come up with.
• If the book is not working for you, email the tour coordinator. Just because you signed up to review it, it doesn't mean you are obligated to suffer through it.
I'm sure there are a million and one pointers for both sides of the fence, but I hope these help bridge the non-communication gap between tour coordinators and their blog partners (aka blog hosts). Since this is my last guest post on our 5th Anniversary tour, I want to take the time to tell all blog hosts how especially important you all are. A blog tour consists of three camps – tour coordinator, blog host and the author. It's the responsibility of the tour coordinator (since she is the one getting paid to do this) to make sure things go smoothly. What the outsider doesn't know is that the tour coordinator knows everything is in on the line for her to perform and is doing her utmost best. She is the middle man (errr woman in our case which brings me to ask this…why aren't there any men tour coordinators?) between the author and the blog host. She sets the standard for how the blog tour is going to progress. Hopefully these pointers and the whole rant in general will help make things go a little smoother on all ends.
I'd also like to thank Molly for having me here today. Molly is one of my dearest friends. She started out as a blog host then when I found out she wanted to start a blog tour business herself, I was right there mentoring her. Now, she has become what I'd like to call it "well broken in." She and I go to each other for a shoulder to lean on and to let out pent up craziness. I always said what we go through would make a bestseller only no one would believe it.
I also want to take the time to thank all our authors who have trusted us to coordinate their tours for them and I have a word or two of advice. No matter what, your tour coordinator has your best interests in heart and is working very hard for you. We do not sit back drinking Margaritas on a tropical island off of your money. We are working 15 hours a day, seven days a week. We do not see our family. Our dogs go unfed. Our fingers are numb, we get viruses from links in Google searching for tour stops for you and our bodies are not quite the same as they were but…it's the best darn job I've ever had.
~ ~ ~ GIVEAWAY ~ ~ ~
Dorothy Thompson and Pump Up Your Book are giving away prizes at every stop throughout their month-long publicity tour and I am happy to let you know you can win a prize on this blog, too! Fill out the Rafflecopter form below to win this beautiful prize!
10 day virtual book tour if you're an author or a $50 Amazon Gift Card if you're not an author!
This is an international contest and ends on May 25 2012.
To find out what other prizes are being offered, click on their tour page at https://www.pumpupyourbook.com/2012/04/01/pump-up-your-book-5th-year-anniversary-celebration/ !
Good luck!
About Dorothy:
Dorothy Thompson is the compiler/editor/co-author ofRomancing the Soul: True Stories of Soul Mates From Around the World and Beyond, as well as other relationship ebooks such as How to Find and Keep Your Soul Mate and 101 Facts You Never Knew About Soul Mates. Her relationship columns have appeared in eNotAlone, SistersDiva Magazine, MindBodySpirit Magazine, Singles Cafe, SinglesStop, Innerself, Single Again, Free Spirit Centre, Holistic Harmony, SpiritualMinds, Self-Growth, Into the Mystic, Romance Stuck and many other relationship ezines as well as The Eastern Shore News and The Daily Times, both Gannet Publications. She has been featured in the supermarket tabloid, OK! Magazine as well as appearing as a special guest on many radio programs including Lifetime Radio, Single Talk, Cuzzin Eddie Show and A Book and a Chat.
Her many upcoming projects include a self-help book titled The Soul Mate Triangle: Unlocking the Mysteries of the Soul Mate Relationship (due to be released by Zumaya Publications in 2013) and several other books in various stages of production.
Dorothy is also CEO/Founder of Pump Up Your Book, an innovative public relations agency specializing in online book publicity and social media.