Title:Sleight Of Hand
Author:Deanne Blackhurst
Publisher:self published
Release Date:July 2010
Source:Tristi Pinkston Book Tours|My FTC Disclaimer
Purchase: Smashwords|Amazon|BarnesAndNoble
Rating:3/5 Books
About the Book:
Is it possible to con your way out of hell? Fifty-two year old Daniel Cabrero thinks so and why wouldn't he? After all, that's how he spent his entire life. But Jonah his spirit guide has reasons of his own for making sure that Daniel pays for all the suffering and misery he's caused others in the past. Still sometimes people can change, even in hell. And maybe Daniel can keep his son from following the same path that brought him here.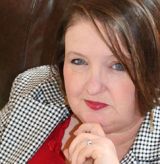 About the Author:
Deanne Blackhurst has been writing for over ten years. She is the author of two published novels with several more in the works.
My Review:
So, I sat down to read this thinking I would be immediately drawn into the story. I would become engrossed in an inspirational story about life, and right from wrong. Sadly, that didn't happen. Please don't get me wrong though, I did enjoy Ms. Blackhurst's work. She has a wonderful talent as a LDS writer, and her characters are vividly portrayed. There was something lacking in the plot line though.
Daniel's character was one that readers may have a hard time liking. I know he wasn't my favorite one, but I could see where Ms. Blackhurst had to create him in the "unlikable" way. For his role in having to choose his eternal destiny, he had to have that I don't care attitude. I think that is the thing that made the plot line lack for me….
Of course, having a son with the name Jonah, my favorite character is….yup! You guessed it…Jonah! I really loved that Ms. Blackhurst used Jonah's character the way she did. It really brought out the importance of God's message to Daniel in choosing his life choices wisely.
All in all, I do recommend this with 3 Books. While not my favorite, I did enjoy it and come away with a powerful message from God. The author's work shines, and I look forward to trying Ms. Blackhurst's work in the future.